Origins
At one time, there were hundreds of breeder organizations across the United States alone. Additional organizations existed in many other countries as well. These organizations were started by breeders and ranchers who wished to compare their animals to those of other chinchilla breeders. They were also interested in sharing and discussing information on their care and breeding in order to determine the best ways to care for the chinchillas. As time went on, many organizations either folded or merged to form the few now in existence.
Who are the Organizations?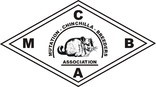 Currently, there are two organizations in the United States and one in the United Kingdom. Some of these groups have branches in other counties such as Canada, Mexico and Argentina. The organizations in the U.S. are the Empress Chinchilla Breeders' Cooperative (ECBC) and the Mutation Chinchilla Breeders Association (MCBA). The U.K. has just one known as the National Chinchilla Society (NCS). These organizations do not compete for membership but rather consider themselves sisters, sharing the country with each other. There are parts of the U.S. where one organization does not exist and parts where the other does not. Between the two U.S. entities, most of the country has a branch nearby. Many chinchilla breeders are members of both ECBC and MCBA. Other countries may have breeders' organizations about which this author has no knowledge.
Their Purpose
The purpose of the organizations is two-fold. On the one hand, they provide information on the history of, caring for, and breeding of chinchillas. This information is provided through websites, publications and seminars. The information is supplied by people who have been raising and researching chinchillas for many years and even decades.

The second purpose is to provide shows in which chinchilla breeders can compete with their best animals. These shows are fun to attend and are also a great place to learn about chinchillas. The judging is done by the original rules developed for fur farming but these rules apply to chinchillas in general. A beautiful chinchilla is a beautiful chinchilla regardless of whether it is a pet, breeding/show animal or destined to become a pelt. Be prepared however, some shows do have a pelt competition. If you do not like fur ranching, you would do best to avoid that part of the show.
Who can Join?
Anyone can join either the ECBC, MCBA or the NCS. It is not necessary to live in a state or country that has a branch. All three organizations accept international memberships. Members need not be breeders or rescues. Pet owners are welcome. All that is necessary is to fill out the application and send in the fee. Information on joining is available on the respective websites.
What are the advantages to joining?
Joining one or more of the breeders' organizations has many benefits some of which are attending shows to compete or watch, informational periodicals and seminars, and the opportunity to socialize and make friends with other people who love chinchillas and have a desire to share their knowledge with other chinchilla people.